Performance + artist talk
Interactive
World Premiere
dating
love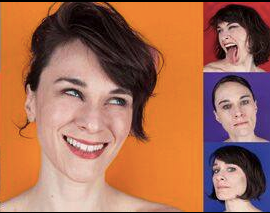 1
2
3
'#Instalove' explores the possibilities of game design as an approach to theater in order to allow audiences more emotional and personal investment in what happens on stage. Daniel Brunet, Producing Artistic Director of English Theatre Berlin | International Performing Arts Center invites audiences to a post-performance discussion, to share thoughts and impressions of the performance with the artists.
You can now reserve tickets (9/15€) including free admission to the introduction directly through Theater Scoutings! (up to 1 day before the performance)
Just send an email with the desired number of tickets to reservierung(at)theaterscoutings-berlin.de.
You are also certainly welcome to simply come by on the day of the performance, but we are unable to guarantee that tickets will be available.

Schedule:

8:00 pm – Performance

after the show - Artist Talk
Questions? The persons with pink Theaterscoutings-badges are here to help you.
Karten-Telefon: 030/ 69 11 21 1
Karten-Online: Karten online bestellen
Karten per E-Mail: tickets(at)etberlin.de

wann:

Fr.

14.07.2017

20:00
wo: English Theatre Berlin | International Performing Arts Center
Fidicinstrasse 40, Kreuzberg, 10965 Berlin (Auf Stadtplan zeigen.)

About the Venue
English Theatre Berlin | International Performing Arts Center
English Theatre Berlin | International Performing Arts Center is the German capital's only producing and presenting organization in the Hauptstadt expressly dedicated to English, the 21st century lingua franca, as the working language. Our year-round programming comprises the Producing Series – Made in Berlin, the Presenting Series, as well as our Performing Series and Pedagogy Series. We are a proud member of Berlin's freie Szene, the independent performing arts community, and are currently developing platforms to share our work within Germany and abroad. We consciously use theater and performance as living, discursive forms to bring artists and audiences into conversation with each other about our shared city and the greater world we live in.

www.etberlin.de
About the performance
#Instalove


Let's try it together. You and me. Tonight. Tonight will be our story. The story of how we met, how it was magical and easy, how we laughed. Your eyes, your smell, the taste of your skin. #Instalove is our story. A participatory performance. A real-time attempt at you + me = us. It begins with an impulse, a desire to connect. A dating app sets us in motion. I show you my selves. My many selves. You make a choice. Which of me do you want? Which of you do I want? Who will I become with you? Who will you be with me?
About the artists
Catherine Duquette & Ruth Segel
Berlin-based US-American performer, writer, director Catherine Duquette specializes in audience-performer relations and improvisation within scripted drama. She creates intimate participatory works that draw on autobiographical materials to share contemporary experiences with active audiences. Curious about expanding notions of performance, Catherine fuses theater, interactive poetry, scripts, and choice-based narrative for video games.
Artist and agitator Ruth Sergel creates compassionate works that explode out the boundaries of traditional mediums. Inspired by rebels, visionary pedagogues and magicians, Ruth's work bridges art and technology, memory and wonder to incite individual and social transformation. Ruth's films, public interventions and interactive installations have been exhibited at the Museum of Modern Art, Boston Museum of Fine Art, Corcoran Gallery of Art and many other museums.